As part of our CSR activities for 2019, SEMPRIS have chosen to follow the journey of a young, aspiring orthopaedic surgeon, through the inevitable academic and allied challenges on the pathway to medical school.
About Tom Corbett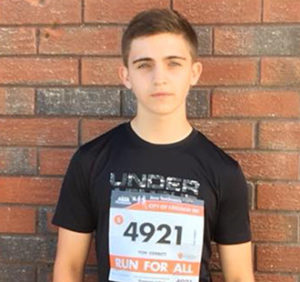 Born in 2002, 16-year-old Tom lives in the village of Digby, Lincolnshire, with his parents, his brother and two cats.
The Carre's Grammar School student originally wanted to become a vet, but, despite his love of animals, soon realised that he was more interested in human biology. This, together with his enthusiasm for sport, lead him to the decision to pursue medicine, and orthopaedics in particular, which he hopes to practice within the sports industry.
With his GCSEs looming in 2019, you'd be forgiven for thinking Tom has little time for other activities, but as a keen sportsman, he plays rugby for Sleaford, hockey for Leadingham Men's 3rd team and ran the Lincoln 10k in 43 minutes 23 seconds (he plans to compete again in 2019).
Tom has also managed to find time to gain his Bronze Duke of Edinburgh's Award, for which, unsurprisingly, he chose First Aid as his skill requirement.
When time does allow, he enjoys angling with his Father – the biggest fish he's caught is a 20lb Mirror Carp whilst the family was living in Belgium during his Father's RAF posting.
He plays the guitar, in which he has already achieved grade 5, and his favourite artists are the Artic Monkeys.
Whilst his exams remain a key focus, he is also fundraising for a school trip with Global Action in July to Nepal, where he will be embarking on a project to build a water system, supporting the UN's Sustainable Development Goals. He is working in a local butcher's shop to help fund the trip, and SEMPRIS are delighted to be able support him with sponsorship towards this project.
Clearly committed to his goals and unafraid of the hard work required of any medic, we wish Tom every success in 2019, and very much look forward to following his journey as he pursues and achieves his ambitions.
About SEMPRIS
SEMPRIS was launched in 2010 in response to requests from doctors for an indemnity scheme that provided comprehensive protection against the unique third-party risks involved in the treatment of professional sportspeople.
In addition, SEMPRIS covers all aspects of independent private practice, including all non-sport related practice and professional issues not covered by the NHS.
More News & Events
---
Share this post:
-
-
-