An interview with consultant orthopaedic surgeon and author Steve Bollen
Our members always inspire us with their work, experience and commitment to their patients. Following the release of his autobiography earlier this year, we interviewed consultant and author Steve Bollen about his career as an orthopaedic surgeon in the NHS, independent practice and across professional sport.
Becoming a Doctor
Steve decided at a young age that he wanted to be a doctor or an astronaut. Thwarted in his ambition for the latter by less than twenty-twenty vision, he ended up at his first choice Birmingham Medical School. After realising that "a life dabbling around in other peoples' guts" was not for him, he landed firmly on orthopaedics as his career specialism – a choice that thousands of NHS patients would come to be grateful for – as well as many professional athletes!
Combining sport and medicine
As his book explains in detail, Steve started out working in district general hospitals all over the country when the average contract for a junior doctor was 120 hours a week. His subsequent career has been somewhat atypical, with serendipitous meetings and decisions made along the way that would come to shape his path. One such quirk of fortune would prove to have a particular impact.
In the days before social media, Steve started treating athletes at local sports clubs such as Bradford City, Huddersfield Town, Bradford Bulls and Leeds Rhinos. The referrals kept coming through word-of-mouth, and he was invited to give a lecture at an FA medical meeting about 'Why some operations don't work'. Sunderland's team physiotherapist was in the audience – and this was one of those meetings that would prove pivotal.
He expands: "Niall Quinn, the Sunderland centre forward, had undergone an ACL reconstruction elsewhere, which didn't have a good result. He was on the point of retiring and had even lined up a job as a commentator. Having heard my lecture, Niall's physio persuaded him to come and see me. I thought I might be able to help and he agreed to be arthroscoped. I knew it was something I could sort out, he agreed to surgery and within eight weeks he was back in play."
"In his first game back, Niall scored and hit the post three times. For the rest of the season, he scored a goal per game for the next 11 games. Gary Lineker interviewed the player on Football Focus, and Niall told him that 'he'd been to see this guy Steve Bollen, who had sorted him out'. The next week, our phones were white hot!"
Steve found that his reputation was such that he was treating sports men and women all over the country, alongside his NHS work.
"Treating a professional sport person is not like treating a member of the public" he says. "When an NHS patient comes in you have the opportunity to say 'I think this will probably settle on its own over 6-8 weeks and if it doesn't, we'll have a look then'."
"If you take that route with a professional player, that's £600k for the club out the window. And if you then go 'I should have arthroscoped you 6 weeks ago', you don't stay in business very long! There's a massive pressure to intervene early."
He goes on: "Treating sports people–especially professional footballers–has become a bit fraught, because the most you can get insured for now is £20 million and the average professional footballer's salary is £5 million per year. So if you look at someone like Sanchez, who earns £400k per week on a four year contract, if you operated on him and it went wrong, he sued and you lost, that would be £150 million plus."
"There are still a lot of questions about what would happen in those circumstances. Whilst it's unlikely a judge would award more than your insurance would pay out, that's not a certainty."
Usually a club will insure their own doctor, but there are circumstances where the club could sue their club doctor. A current case illustrates: A Sunderland doctor made a fitness decision on a signing medical, and the club went on to sign the on-loan player – who subsequently only played 12 games. The club is now suing the club doctor for £13 million.
Steve says "It has reached the point where you seriously have to think about whether is this actually worth it – you don't get paid much more for treating professional sportspeople than anyone else, but the risks of litigation are high".
So why do SEM doctors take the risk?
"It's a challenge" he explains. "For me the analogy is Formula One. A team like McLaren or Mercedes spends millions developing performance cars, which then perform at the limit of what is mechanically possible. But what they develop in those cars gradually filters down to the vehicles you or I drive on a daily basis."
"If you can develop surgical techniques that work in professional sports people, then those techniques are going to benefit the general public down the line. It's like major trauma – the first line of treatment filters down from the battlefield combat medicine."
He ends "I've always enjoyed playing sport and I have lived out my sporting ambitions vicariously through players I've treated. Chances are, if I'm watching Rugby League or soccer at any level, there will be a player on the field that I've treated at some time in my career."
---
I'm Not Like Everybody Else: The Life and Times of a Top Sports Surgeon by Steve Bollen
(ISBN: 9781783241477)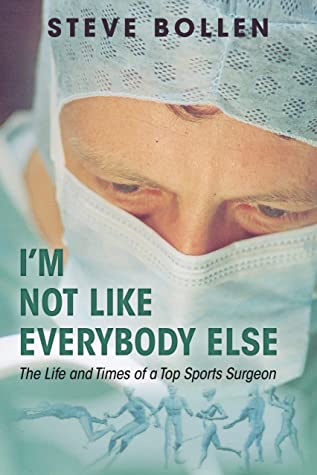 ---
About SEMPRIS
SEMPRIS was launched in 2010 in response to requests from doctors for an indemnity scheme that provided comprehensive protection against the unique third-party risks involved in the treatment of professional sportspeople. To our knowledge, these risks are still not covered by any other Medical Defence Organisation or Insurance Scheme.
In addition, SEMPRIS covers all aspects of independent private practice, including all non-sport related practice and professional issues not covered by the NHS.
Members benefit from the expert legal support and representation offered by SEMPRIS Support. In addition to providing legal advice on all issues arising from professional practice, the service is the primary point of contact for discussing or notifying us of a 'circumstance' or claim against you.
The service will now provide full and accessible risk management, offering advice, education and updates to members on best practice and mitigating risk within private practice.
More Articles
---
Share this post:
-
-
-