The usually long January seems to have passed in a flash, and Spring days will be on their way, once we're over this snowy blip! Throughout, we continue to enjoy some of the lighter moments shared online, proving once again that we're all in this together. Whether it's baking https://twitter.com/DrJN_SportsMed/status/1352984649711177728, trying to get the kids outside for some fresh air https://twitter.com/AdamMeakins/status/1345807079878098952 or a momentary lapse in concentration leading to near-disaster https://twitter.com/pepemac27/status/1346085610596028416?s=12, we can all relate to these moments.
We've also had the pleasure of highlighting two new books by members recently: Knife in the Fast Lane by Bill Ribbans and I'm Not Like Everybody Else by Steve Bollen. If you have a book coming out this year, please do let us know so that we can give it a mention.
Research, Articles and Podcasts
MSK
ACL Injury – Post-traumatic osteoarthritis: A review https://arthritis-research.biomedcentral.com/articles/10.1186/s13075-020-02156-5
Low back pain – Treating athletes – a review https://bjsm.bmj.com/content/early/2020/12/20/bjsports-2020-102723
Rotator Cuff Repair – Early versus delayed motion post repair: A systematic review of overlapping meta-analyses https://pubmed.ncbi.nlm.nih.gov/28288280/
Adductor avulsions – A review of MRI findings https://link.springer.com/article/10.1007/s00167-020-06180-5
Knee Ligament Sprains – A quick quiz for your coffee-break https://www.surveymonkey.com/r/kneeligcpgquiz
COVID-19
Managing a Confirmed or Suspected Case – A guide for sports. https://bjsm.bmj.com/content/early/2020/11/29/bjsports-2020-103409
Keeping Football Going – Insights from a Premier League doctor https://www.telegraph.co.uk/football/2021/01/15/5am-starts-snood-fines-fighting-covid-premier-league-football/
PCR Infographic – Testing for elite athletes https://bjsm.bmj.com/content/early/2021/01/16/bjsports-2020-103751
PPE – Interassociation consensus recommendations for pitch-side emergency care https://bjsm.bmj.com/content/early/2020/12/23/bjsports-2020-103226
CARDIOLOGY
Sudden Cardiac Death – regional differences in worldwide football https://bjsm.bmj.com/content/early/2020/12/23/bjsports-2020-102368
ECGs and Mixed-Race Soccer Players – Defining the normal spectrum of electrocardiographic and left ventricular adaptations https://www.ahajournals.org/doi/10.1161/CIRCULATIONAHA.120.049740?url_ver=Z39.88-2003&rfr_id=ori:rid:crossref.org&rfr_dat=cr_pub%20%200pubmed
Hypertrophic cardiomyopathy – Return to play: A critical review https://bjsm.bmj.com/content/bjsports/early/2021/01/20/bjsports-2020-102921.full.pdf
FEMALE ATHLETES
Postnatal runners – A guideline for retuning to running after pregnancy https://blogs.bmj.com/bjsm/2019/05/20/ready-steadygo-ensuring-postnatal-women-are-run-ready/
GENERAL
Dance and sport – Energy availability in dancers and the lessons for all sports https://blogs.bmj.com/bjsm/2020/12/30/energy-availability-in-dancers/
Scarwork Infographic – A timeline for treatment stimulus in sport https://blogs.bmj.com/bjsm/2021/01/09/scarwork-a-timeline-for-treatment-stimulus-in-sport/
Introducing A 'Fit And Proper Test – Practical considerations for electing members of World Rugby's council https://www.lawinsport.com/topics/item/practical-considerations-for-introducing-a-fit-and-proper-test-to-elected-members-of-world-rugby-s-council#references
Disability – Effectiveness of exercises by telerehabilitation https://bjsm.bmj.com/content/55/3/155
Premier League Rejection – Ian Poulter discusses how he turned rejection into golfing success in this podcast. https://audioboom.com/posts/7769239-ian-poulter
RESOURCE ROUND-UP
Some websites, podcasts and resources you might find useful:
Talent Takes Practice – Podcast series with Matthew Syed and Robbie Savage https://audioboom.com/channels/5038997
Young Athlete's Hip Webinar Series – The Oxford-Aspetar-La Trobe https://www.ndorms.ox.ac.uk/events/Oxford-Hip-2021
The Physio Matters Podcast – https://physio-matters.com/the-physio-matters-podcast/
Recognise And Remove – Concussion education app https://playerwelfare.worldrugby.org/concussion
The Back Pain Podcasthttps://podcasts.apple.com/gb/podcast/the-back-pain-podcast/id1511515312#episodeGuid=195be39f-9b72-4444-a805-ac68012ac4b2
Ankle Surgery Update Podcast https://www.buzzsprout.com/892405/6263683

COVID-19 – Free online Courses from BMJ Learning https://new-learning.bmj.com/covid-19
FMPA Podcastshttps://www.fmpa.co.uk/fmpa-podcasts/
BMJ Podcastshttps://soundcloud.com/bmjpodcasts
Novel Coronavirus Information Center – Elsevier's free health and medical research on the novel coronavirus (SARS-CoV-2) and COVID-19 https://www.elsevier.com/connect/coronavirus-information-center
Writing Tips – Academic writing mentor Professor Helen Sword shares her tips https://youtu.be/KgJ5DpK95LE
Dates for Your Diary
Learn to assess and manage concussion, ACSEP – Interactive seminar, March -June 2021 https://mailchi.mp/acsep.org.au/concussion-webinar-registration
Do let us know your feedback, and any suggestions you have for websites, apps or networks for inclusion in future bulletins.
DISCLAIMER: Horizons is intended as a helpful round-up for members of potentially interesting articles/opinions that have been shared online. SEMPRIS are not qualified to make/infer any clinical judgements, and the inclusion of content, events and resources does imply endorsement.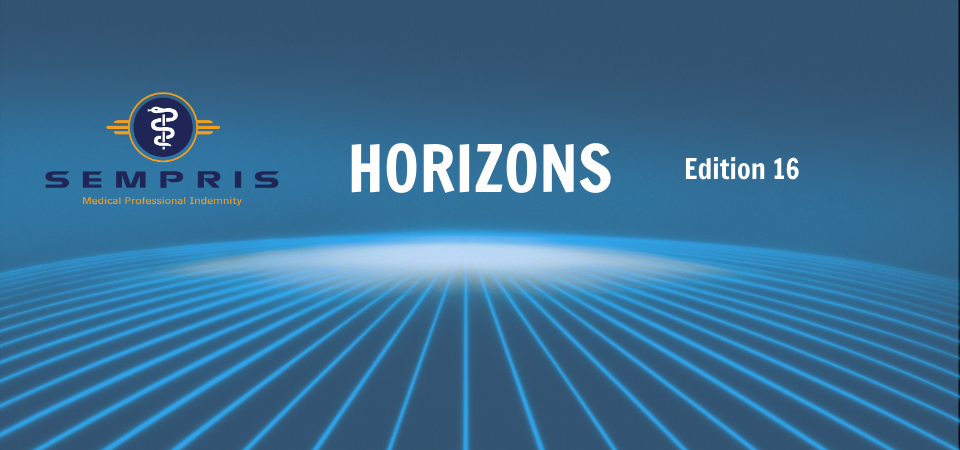 More Articles
---
Share this post:
-
-
-